Five Things You Probably Didn't Know About Outdoor Fire Pits Vancouver
Outdoor fire pits are becoming an increasingly common part of backyard décor all across Vancouver—and for a ton of great reasons.
They add just the right touch of ambiance and atmosphere to any patio or deck, they provide the perfect excuse to relax and enjoy the beauty of your garden, and they are a wonderful incentive to socialize the night away with friends and family under a star-lit sky. But, of course, you already knew that. What you probably didn't know, however, is that there's a whole lot more to outdoor fire pits than meets the eye.
Year-round outdoor enjoyment
One of the best reasons to add an outdoor fire pit to your backyard is that you will be able to host enchanted soirees all year-round. Perched on your patio or nestled in your backyard, an outdoor fire pit will keep you and your guests cozy and warm long after the summer has gone. Why limit your outdoor enjoyment? Transform your backyard into the ultimate gathering place all year long.
Versatility
Outdoor fire pits Vancouver aren't just beautiful and durable, they are also versatile. Like many folks, you probably believe that all outdoor fire pits are permanent. While that certainly is an option, it's far from the only one.
If you've always wanted an outdoor fire pit but were a little hesitate about committing to a fixed, in-ground one, not to fear. These days, it has never been easier to have your very own above-ground, semi-permanent fire pit installed. Plus, our Fire Pits run on 3 types of fuel; natural gas, propane (otherwise known as LP gas) same fuel found in regular barbecue tanks, or we can use ethanol with an Eco-smart burner. How's that for versatility?
A wide variety of design options
Think all outdoor fire pits are alike? Think again. Outdoor fire pits Vancouver come in a wide variety of shapes, sizes, and forms, complementing your home and your unique sense of style. Whether you are looking for a design that stands out or something that's a little more laid back, there's no limit to the eye-catching decorative choices of today's outdoor fire pits.
Increase the value of your home
Did you know that a custom backyard is something that many future homeowners are looking for? Truth is, beautifully designed outdoor living spaces add value to your life, as well as your property. Adding a fire pit is smart decision that will up the worth and desirability of your home, attracting more potential home buyers than you could have ever thought possible.
Private backyard getaway
Make no mistake about it, outdoor fire pits Vancouver are wonderful for bringing friends and family together, right in the comfort of your backyard. But when you're not entertaining, they can also be a great place to get away from it all. What could be more relaxing than putting your feet up and relishing in a glass of wine or a book while enjoying the warmth of a crackling fire after a hard day? For the perfect intimate setting, nothing quite compares to an outdoor fire pit.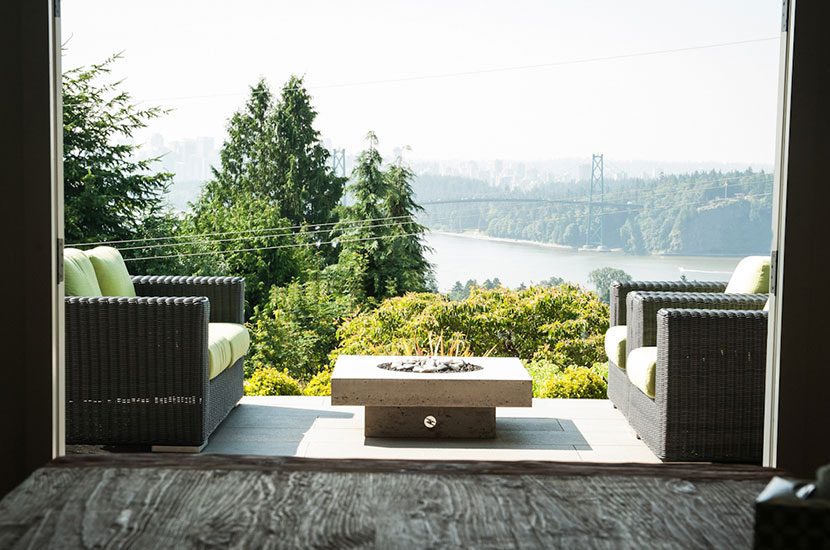 Whether your goal is a beautiful outdoor entertainment space or a dreamy backyard retreat, an outdoor fire pit Vancouver is the perfect addition to any home.